WeWork Artz Pedregal, Ciudad de Mexico

WeWork Strawinskylaan 4117, Amsterdam

WeWork Stephen Avenue Place, Calgary

WeWork Hub71, Abu Dhabi

WeWork RMZ Latitude Commercial, Bengaluru

WeWork Grzybowska 62, Warsaw

WeWork 100 Summer Street, Boston
Upflex + WeWork
In February 2022, Upflex launched an exclusive, strategic partnership with WeWork, making us the only third-party platform offering access to WeWork's entire portfolio.
Teaming up with WeWork helped us establish a combined network of over 6,000, high-quality flex work locations in 80+ countries, providing a broader range of options to both WeWork and Upflex's clients — and creating easier access to greater workplace flexibility and choice for the global workforce at large.
Serving the entire workplace ecosystem
WeWork's members can now leverage Upflex's technology, security and privacy, and our vast network of workspace on demand. Likewise, Upflex's clients — from start-ups to the Fortune 100 — can adopt our full-service, data-driven solutions for workspace management while gaining, or continuing, access to WeWork spaces.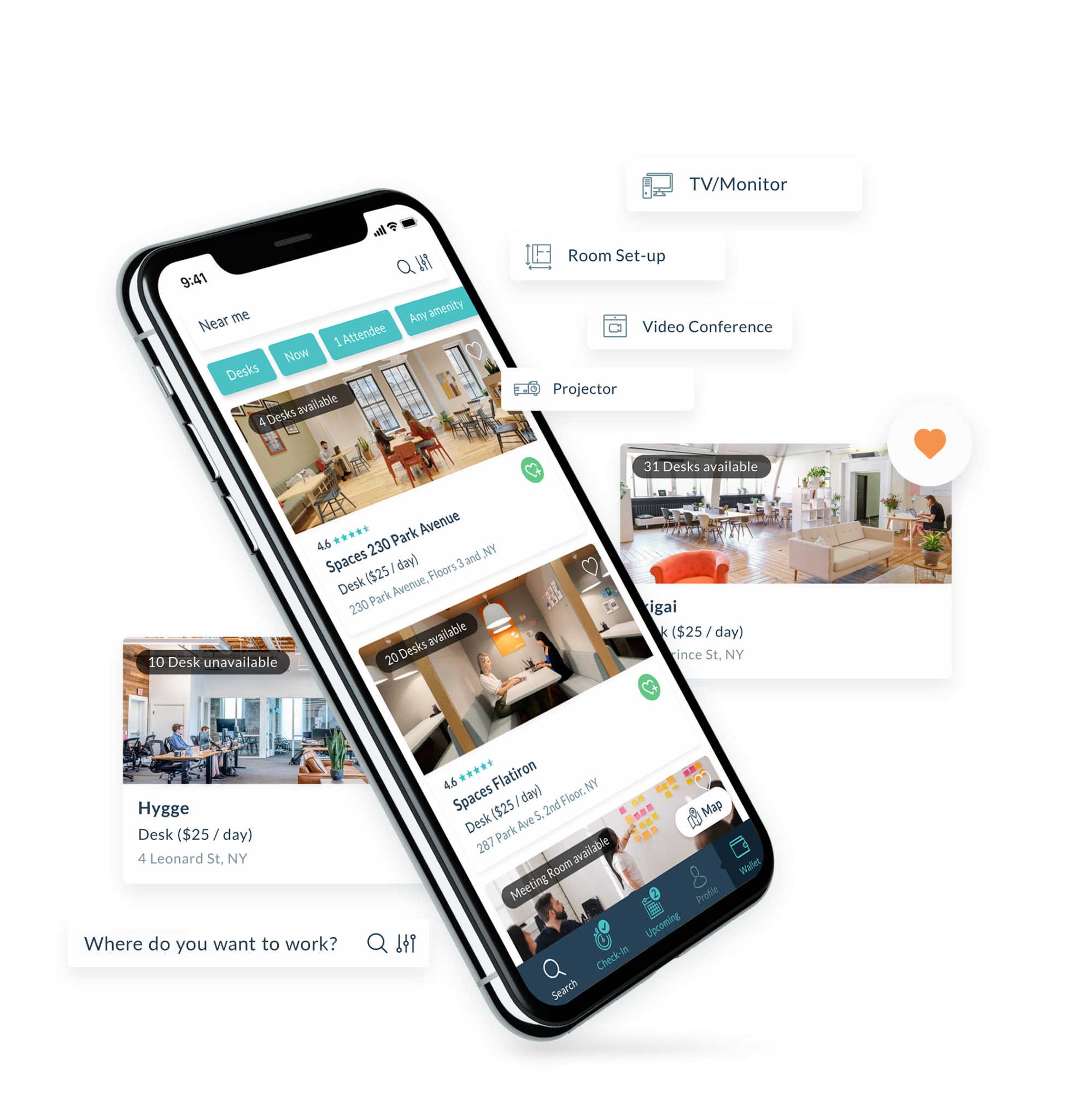 What's the difference between Upflex and WeWork?
Upflex is an innovative technology company providing solutions to make hybrid work seamless. Our workspace intelligence platform connects companies, space providers, and brokers in one cooperative ecosystem of flexible and sustainable work. With Upflex, companies can manage their entire workspace portfolio — from leased or owned real-estate to a worldwide network of flex space — while they budget, forecast and optimize their teams' workspace usage. Our global network is made up of more than 6,000 high-quality, bookable workspaces from hundreds of operators, WeWork included.
WeWork is a leading flex space owner and operator. Having led Upflex's recent $30M Series A fundraising round, WeWork has been a supportive partner, sharing our vision for a more seamless hybrid work experience enabled by technology. In line with that vision, their platform WeWork Workplace offers enhanced workspace booking and payment options to their members.